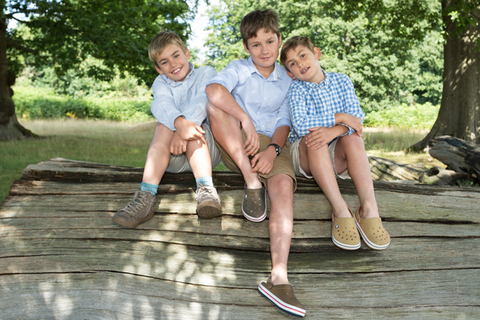 Welcome to my Family Shoot Frequently Asked Questions page! 

My photo shoots usually take place at a location that is special to you. This can be a venue such as a local beauty spot or in your home. If children are involved, I definitely recommend shooting outdoors where they can run around and I can capture the fun while they play. There's also the added bonus of not having to tidy your house before I arrive! 
The session can typically last up to 2 hours, but this can vary depending on the age and number of children and their mood on the day. I am very patient, however, so don't panic!
In less than two weeks I will have edited the images from you shoot to give you the best possible family photographs. Then depending on your preference, I will either come to your house for your viewing (you'll have to tidy up this time!).  Alternatively I can send you a I will let you have a link to a password protected gallery on my website. From here you can view all your family portraits and choose the ones you would like to order.
The shoot fee is payable when you book your shoot and does not include digital files or prints. Once you have selected your favourite images, you can order from my products list.
Frequently Asked Questions
What is your photographic style?
Good question! I'm very relaxed in my approach to people photography, so unless you stipulate otherwise, it's an informal, fun affair.
As a father of two (and Godfather to five girls!) I know what really makes kids tick and how to get the best out of them. If it's hyperactive toddlers or moody adolescents, I will get the shots that tell your story - try me!
How long do your shoots take?
Most sessions take between 90 minutes to a couple of hours max. I shoot on location, this can be at your home, the beach at low tide, a leisurely stroll through the city or at a local beauty spot – the choice is yours and the possibilities are endless!
We're not naturals in front of the camera - can you help?
Of Course! You've no idea how often I hear this and in most cases it simply isn't true. Most of us aren't models so it can feel uncomfortable and awkward when you are expected to 'perform'. An important part of my job is to make you feel at ease and I promise to make the shoot as enjoyable as possible.
You should wear clothes that you feel comfortable in and that reflect your personality.
Can we bring some toys along?
Absolutely - a favourite teddy a kite or a football are a great idea. I love a good kick about!
What will we do on the shoot?
It's totally dependent on what you feel like doing on the day, but shoots sessions often involve lot of jumping, swinging, hopping, splashing, wandering, giggling, climbing, exploring, and laughing (all at no extra cost). I positively encourage tomfoolery!
How long until I see the photographs?
I will edit around 60 of the best images ready for the viewing session which takes place in the comfort of your own home (or in an online gallery if you'd prefer) around two weeks after the shoot.
Can I see the images in both colour black and white?
Yes, I can do this really easily at the viewing and I am happy to do so.
How much do your pictures cost?
Please see the Products page for details of the various frames, canvases and other display media that are available, or contact me for a detailed price list.
If you have questions which I haven't answered or to book me to photograph your family, please call me on 07790 634140, fill in the contact form or book directly here.