UK Party Venues
The locations of the parties I shoot are incredibly varied. From exclusive London clubs to Stately homes in the country and enormous marquees erected especially for the occasion. My favourite UK party venues are listed below.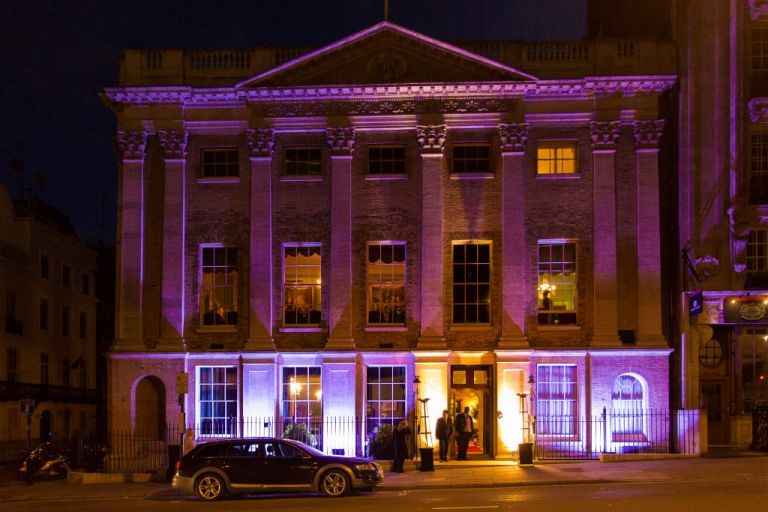 Brooks's St. James Street London
In September 1777 William Brooks, commissioned Henry Holland to design and construct a purpose built clubhouse on St James's Street. Paid for at Brooks's own expense, however the building was completed in October 1778.
I have photographed a number of prestigious parties at Brooks's, including celebrations for the 250th year of the club.

Hever Castle, childhood home of Anne Boleyn
Hever has played host to many important events and celebrations for over 700 years. In 1903 when William Waldorf Astor began restoring the Castle, he added the Astor Wing to accommodate his family.
Today the Astor Wing and areas of the Castle itself are available therefore for corporate and private events. It's a beautiful venue where I have photographed a number of fun parties and corporate events.
Hurlingham Club, one of Britain's greatest private members' clubs
Recognised throughout the World as one of Britain's greatest private members' clubs, the Hurlingham retains its quintessentially English traditions and heritage. In addition providing modern facilities and services for its members. If you are thinking of joining you'll have to be patient – the waiting list is currently 12 years! Great place for a party and I've had the pleasure of being a Hurlingham Club photographer quite a few times. It's fab and really hard to imagine that Central London is so close!
The Ivy, 1 – 5 West Street, London
The restaurant and private room upstairs are the epitome of glamour. Executive Chef Gary Lee creates balances seasonal menus that place the Ivy classics alongside a contemporary global palette. Meanwhile, Director Fernando Peire and his experienced team deliver the unfaltering service for which The Ivy has become celebrated for worldwide, over the years. If you are looking for a London party photographer and are considering hiring the Private Dining Room, please contact me  – I love photographing parties at The Ivy!
Leeds Castle, "The Loveliest Castle in the World"
Leeds Castle has been a Norman stronghold; the private property of six of England's medieval queens, a palace used by Henry VIII and his first wife Catherine of Aragon, a Jacobean country house, a Georgian mansion, an elegant early 20th century retreat for the influential and famous and in the 21st century, it has become one of the most visited historic buildings in Britain. Go visit!
Lion House Chelmsford
Filled with natural daylight from the feature glass wall and garden beyond, this venue will delight your guests. Finished in calm, neutral colours, their function space will reflect whatever mood, colour or theme you wish to bring. Great venue for party photography in Chelmsford.
Maison Talbooth
This 19th century boutique country hotel looks out across Constable's Countryside and the Dedham Vale. Maison Talbooth is beautifully located and is ideal when an intimate venue is desired. Highly recommended.
Mosimann's
Located in the heart of Belgravia, Mosimann's Club is one of the most prestigious private dining clubs in the world. Built in 1830 as a Presbyterian church, later becoming a spiritualists' meeting place, tit is now one of London's most famous luncheon and dining clubs. A great venue for photography in Belgravia.
Run by legendary chef Anton Mosimann and his two sons Philipp and Mark, members come from the world over to enjoy its exemplary cuisine. A truly stunning venue for a private party, it has been my pleasure to shoot here on many occasions.
Quaglino's
Hidden within historic and stylish Mayfair Quaglino's serves contemporary European food and legendary cocktails. Founded in 1929, Quaglino's has been the favourite of Royalty and Hollywood legends alike for generations. Judy Garland celebrated her final marriage here in 1969, and the Profumos put on a very public display of affection after the Christine Keeler scandal in 1961.
I have shot many parties here and it remains one of my favourite London restaurants, a great venue for party photography in Mayfair.
Worx
The Worx is London's leading contemporary Venue and Studio hire complex based in Parsons Green, Fulham. The Worx is the ideal venue to host your party or event and a favourite of this photographer! I have shot parties there on a number of occasions and absolutely love it.
I have shot parties at all of the above venues and many more besides. Take a look at my party gallery here.