Panasonic Lumix LX100 Review
Happy New Year one and all! I hope you had a good break, here's my Panasonic Lumix LX100 review. It's not a full on technical analysis, more a real world evaluation. If you are looking for something a little more in depth google Dpreview as they have an excellent write up.
We have just returned from a very enjoyable skiing holiday in Bansko, Bulgaria where I took my recently acquired Panasonic Lumix LX100 along to record our adventure. In the past I have nearly always taken one of my professional cameras with me, but I wanted a smaller unit that I could place in a pocket and that was a lot lighter to take on my travels.
I had considered the Canon GX1 mark ii and the Canon GX7 (as I shoot Canon professionally) and I came really close to buying the GX7, but once I'd tried them out in the shop, they didn't fulfil every criteria on my list. I liked the Canons (especially the reach of their zooms) but ultimately they didn't have the wow factor of the LX100. I also came very close to buying the Olympus OMD  EM10, but once I'd handled the LX100, I was smitten. It's a beautiful piece of engineering with some amazing features, but it's also really easy to handle and is a thing of great beauty!
Whilst is has a lot of the features I considered 'must haves' such as an incredible Leica lens and 4K video recording capability, it has an undeniable retro look that I really warmed to. Coupled with the dedicated leather case and strap (a bit pricey at a penny change from £70, but does include a genuine Panasonic battery which will set you back £45 on its own) it was beginning to look a lot like my ideal travel camera.
First stop for me and my Lumix was Mexico. First though, I have a confession to make. Although I am a professional photographer, I tend to shoot more video than stills on family holidays, so although I might shoot a few hundred photographs while away, I will also end up recording a couple of hours of video too which I will edit when I get home. I wasn't planning to shoot video on the Lumix (not on this trip, anyway) as I have a GoPro for that, which is absolutely brilliant. We stayed at the Sunset Royal in Cancun which was really fantastic for lots of reasons. My first trip to Mexico was everything I expected it to be and more, vibrant, noisy, friendly and hot, hot, hot!
Most of my outdoor commercial work is shot using aperture priority (so, I select the aperture according to my needs, and the camera's light meter selects the appropriate shutter speed). This gives great results most of the time, but I started off using the LX100 in full Auto mode to begin with, just out of curiosity to see what it could acheive. It actually produced some pretty remarkable results as you can see on this view of the beach. The light meter was fooled a little by the lighting and the resulting was a little dark (as you might expect shooting into the sun) but that is easily remedied. One of the LX100's best features in my opinion, is the exposure compensation dial sitting on the top plate of the body, just behind the shutter button. This allows the user to apply more or less light to the sensor (+ or – 3EV). The dial has a reassuringly chunky feel to it (and is big enough for even my fat sausage fingers!) and is reminiscent of some of the great 35mm film cameras such as the Olympus OM2 and Nikon FE which both have this feature. I'd love this quick and easy to use physical dial on my professional Canon cameras, but alas it's menu driven and consequently nowhere as fast to operate.
Another really useful feature of the Lumix LX100 is the ability to change the aspect ratio of the image you are shooting. On the the lens barrel, just behind the aperture ring is a switch that selects the shape of the photograph according to your needs. I have only used the native digital ratio of 3:2 and the Instagram friendly 1:1 which combined with the LX100's wifi capabilities is really useful (but more of that later!)
Overall the images from the LX100 are excellent. The lens is a Leica 24 – 75mm equivalent zoom with a maximum aperture of F1.7 which is ideal for creating minimal depth of field (some examples of that later). It's only when the light starts to fade that the limitations of the Four Thirds sensor become apparent when the images become very noisy.
On several nights we experienced something truly magical when enormous Sea Turtles hauled themselves up the beach to lay their eggs in the sand. They do this in the total darkness of night and flash photography is not permitted as it disturbs these beautiful creatures. It also unfortunately means that photography is out of the question – it was so dark that at times it was difficult to spot a turtle approaching from less than a few meters away.
We were allowed to photograph some recently hatched babies and helped release them into the sea a few nights later. Again, no flash was permitted, but we could photograph using a special light to illuminate these fascinating creatures. The results aren't brilliant (they are very noisy) but the thing about this camera is it's pocketable – there's no way I'd have taken a DSLR with me so this is an image that I would have otherwise taken on my iPhone.
High on the list of 'must have' features for my travel camera was the ability to transfer images via wifi. The evolution of smart phones has made it very easy to capture and transmit our images to social networks such as Instagram and Facebook and I wanted an easy way to do this. I downloaded the Panasonic Image App that not only allows me to view and then upload images to my iPhone or iPad, but there's also a really clever feature that enables the user to view a live screen of what your LX100 is looking at (as well as zooming in or out). You can then takee a photograph (or video) using your iPhone to capture the image on the Lumix. You can see me triggering the family portrait on the balcony of our hotel room below with my phone in my hand. This is a really useful feature and one I am sure I will use a lot more in the future.
Fast forward a few months and we were lucky to travel to Bulgaria just after Christmas for a week of skiing on the snowy slopes of Bankso. As with Mexico, my trusty Gopro was ever present, so I'd just brought the LX100 along to capture a few snaps along the way.
I wore the strap around my neck with the camera safely tucked away under my jacket which was actually quite comfortable. I was able to access the camera without too much hassle and my fear of me falling on it and cracking a rib or two was unfounded (mainly because I didn't fall over – yay!)
Shooting in snow plays havoc with the camera's metering system, giving consistently under exposed results. The LX100's excellent exposure compensation dial came to the rescue once again and once I'd given it +2 EV, it seemed to cope very well. I used Auto white balance (because who has time to custom balance when you are half way down a red run?) and most of the time the results were comparative to the AWB on my 5D mk3s, which is quite impressive. I shot a mixture of RAW (through force of habit) and Jpeg, but for future trips I am confident enough with the LX100's abilities that I will shoot only Jpeg.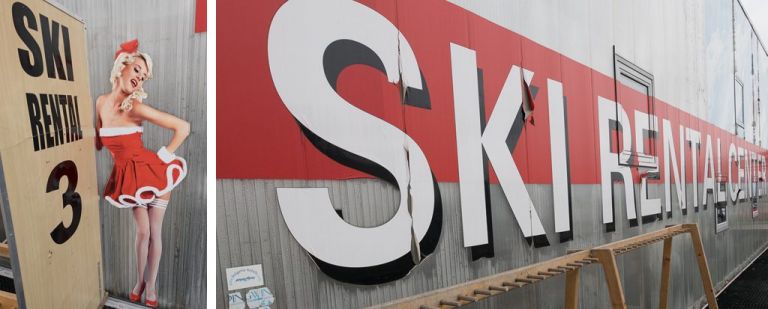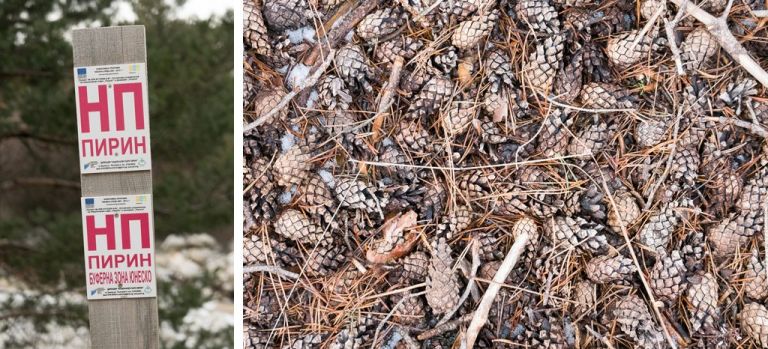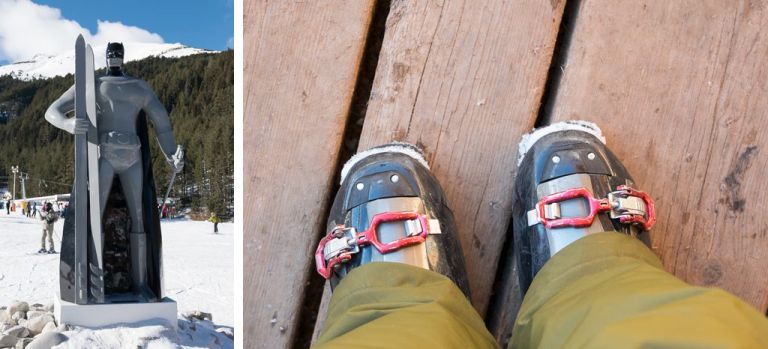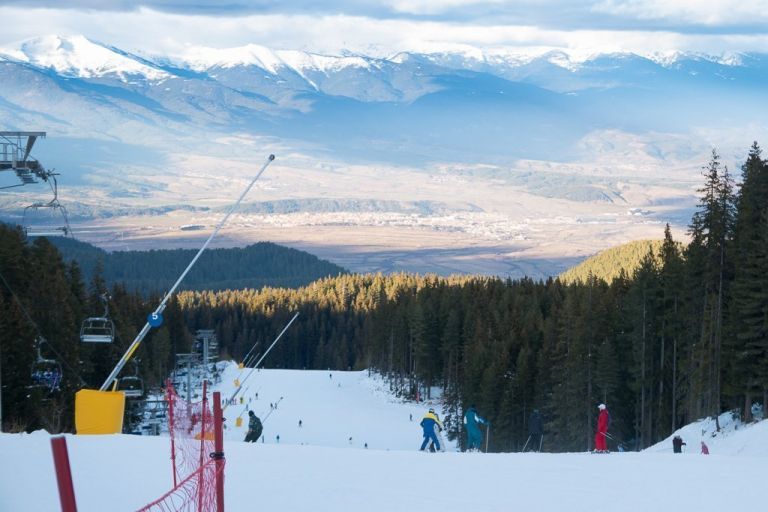 To conclude, here are the things I love (and tolerate) about the LX100:
PROs 
Size. It's small enough to fit in a coat pocket, whilst having all the major control at hand (and not tucked away in a menu somewhere).
Layout. Well thought out and intuitive. Plenty of scope for customising controls should you wish.
Quality. Fantastic images straight out of camera.
Wifi. Brilliantly easy to send images to your iPhone or iPad to publish on Facebook, Instagram etc.
CONs
Speed. Start up speed (when you turn the camera on) is a bit slow. I'd like it to wake up from its slumber a little quicker. Zoom control is electronic and consequently not the fastest.
Low light issues. The Lx100 is not great in really low light, so room for improvement there Panasonic!
Zoom. The focal reach of the zoom is short compared to some of the LX100's competitors, but not a massive issue for me.
Flash. The is no built in flash (though a small additional unit is included) I sometimes use a little touch of fill in flash in my portraits, but didn't bother on my trips to Mexico and Bulgaria because it's just too fiddly for me.
Touch screen. I'd love to be able to focus via a touch screen when shooting video, that would make me very happy!
Price. The Lx100 is not cheap, costing considerably more than the entry level offerings from the major DSLR manufacturers.
So there we have it, my initial thoughts on the Panasonic Lumix LX100. If you want a more detailed (and frankly more technical) review, get your self along to the excellent DPReview and if you have any questions about my blog post, or you'd like to book a photo shoot, please feel free to contact me using the contact form below.
Best wishes,
John